Turbulence Team Enlivened ITB Ultra Adventure Trail Run 2022; "Berlari Wujudkan Teras FTMD"
Bandung – ITB Ultra Adventure Trail Run 2022 was successfully held on Saturday (10/09/22) as the first series of ITB Ultra 2022 trilogy sports activities. This sports activity was attended by more than 600+ participants with a distance more than 40+ KM across forest areas and hills. The Solidarity Forever Foundation (Yayasan Solidarity Forever/YSF) organized the ITB Ultra 2022 trilogy sports series. This sports activity is also fully supported by ITB and the ITB Alumni Association (Ikatan Alumni ITB/IA-ITB). 
The ITB Ultra 2022 trilogy sports series consists of ITB Ultra Adventure Trail Run, ITB Ultra Marathon, and ITB Ultra Cycling. This sports series is conceived as a forum for gathering and raising ITB alumni's concern for the campus. All ITB alumni from across generations and majors participated in these prestigious sporting events. They run not only to build friendships but also to contribute for ITB education's development through fundraising by converting kilometers into rupiah. It has the same energy as the Solidarity Forever foundation, a unifying and empowering forum for Faculty of Mechanical and Aerospace Engineering (FMAE) ITB alumni. They have the role and ambition to contribute to the development of FMAE. 
On the day of the ITB Ultra Adventure Trail Run 2022, the participants gathered at the Sasana Budaya Ganesha (Sabuga) ITB as the starting line for running in the early morning. They did registration and preparations before running. Even though the weather was a little cloudy with the cold air in Bandung due to the night's rain, all the participants were excited and couldn't wait to start running.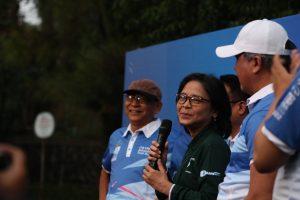 The Rector of ITB, Prof. Reini Wirahadikusumah, Ph.D., opened the event directly. This event was also attended by Ir. Susilo Siswoutomo as the chair of YSF, the chief executive of ITB Ultra Marathon, ITB Alumni Association, and sponsors. The participants are ITB Alumni across faculties, academics of ITB–both deans and lecturers, ITB students, and public. 
FMAE ITB actively participated by sending a Turbulence Team consisting of eight FMAE ITB lecturers. They ran through the jungle routes in Bandung, starting from ITB Ganesha to ITB Jatinangor. The Turbulence Team echoed the theme "Berlari Wujudkan Teras FTMD" (Running to realize the FTMD Terrace construction). This theme was carried out to raise funds for the construction of the FTMD Terrace. 
Turbulence Team referred to relay eight running group categories. This relay group comprises eight runners who occupy their respective posts (Water Station/WS). Each runner must only complete their running track until the WS has been determined. Then it will be continued by the next runner. This role is certainly different from the solo runner category. Solo category runners must complete the running track from the starting point to the end. A support team accompanies each runner to help runners around the WS area or at a predetermined place.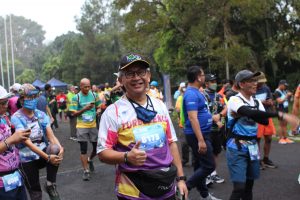 The first runner from the Turbulence Team was Prof. Dr. Ir. T. A. Fauzi Soelaiman, MSME. He ran from Sabuga ITB through the Ir. H. Djuanda Forest Park to the first WS point, Goa Belanda, with enthusiasm. The running track was then continued by the second runner, Dr.Eng. Sandro Mihradi, who got to 2nd WS at Tebing Keraton. The next pattern was carried out until the last WS at ITB Jatinangor.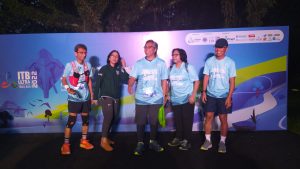 Not only the Turbulence team, but other FMAE's lecturers also participated as a runner. Prof. Dr. Ir. Tatacipta Dirgantara, Dean of FTMD ITB joined with eight other deans of Faculties/Schools at ITB as a runner. They carried out the campaign "Dekan Berlari untuk Dana Lestari" (Dean runs for funds). Badan Pengelola Usaha dan Dana Lestari (BPUDL) ITB will manage the collected funds. Then it will be used for scholarships and the development of ITB. 
Several lecturers who are also alumni of ITB participated as a runner. For instance, Dr. Eng. Raden Dadan Ramdan, ST., a member of the alumni team, Mechanical Engineering class of 1996. 
Mechanical Student Association (HMM) ITB also participated in this sporting event. One joined as a runner in the relay two running group category. some of them volunteered to become a support team accompanying eight lecturers who were members of the Turbulence Team. They were ready to be in the places that had been determined. Million thanks are given to the support team. There would be no runners in this event without them.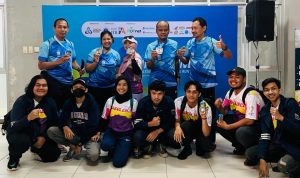 It was not easy to finish the track. Heavy rain fell in the middle of the trip, and slippery and muddy some track points were. Nevertheless, it did not break down the runners' spirit. They succeed in finishing the ITB Adventure Trail Run 2022. 
There are two other sports activities as a part of ITB Ultra 2022, ITB Ultra Marathon will be held on 28-30 October 2022 and ITB Ultra Cycling on 3 December 2022. Get ready to be part of the biggest and most prestigious sporting event with ITB alumni!