FTMD and ASU Collaborate on Enhancing Internationally Standardized Education Through the HEPI Program
The Faculty of Mechanical and Aerospace Engineering (FTMD) ITB, and Arizona State University (ASU) have agreed to collaborate in order to enhance the quality of internationally standardized education. This collaboration is carried out through the United States Agency International Development – Higher Education Partnership Initiative (USAID-HEPI) program. As an initial step, FTMD hosted a workshop with the theme "HEPI ITB Co-Creation Meeting" aimed at preparing for the HEPI program in 2023.
The Higher Education Partnership Initiative (USAID-HEPI) program is a collaboration between USAID and Arizona State University, aimed at strengthening the relationships between higher education institutions in the United States and Indonesia. The program's goal is to enhance science, technology, engineering, and mathematics (STEM) programs at selected higher education institutions in Indonesia, including ITB, to align them with international standards and industry demands.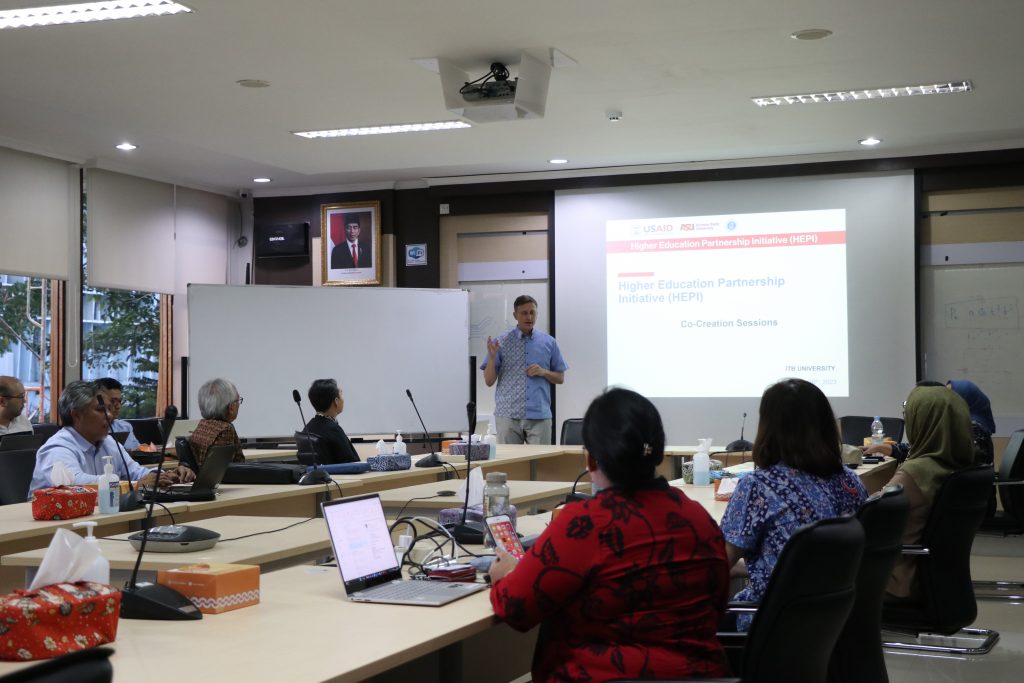 Through HEPI, USAID provides support to higher education institutions in Indonesia through a consortium consisting of universities, the government, and industry partners. This support includes enhancing industry-relevant curriculum, meeting international accreditation standards, and improving the recognition of course credits between universities in the United States and Indonesia.
During the workshop held at FTMD on Friday (26/05/2023), faculty members from various schools and faculties at ITB also attended. The workshop began with a discussion of Core 1 (Industry-linked Curriculum), which focuses on industry-related curriculum.
Invited guests, including Program Coordinators, also visited several laboratories at ITB, such as the Telecommunications, Radio, and Micro Wave Laboratory at STEI (School of Electrical and Informatics Engineering, Bandung Institute of Technology), the Electric Energy Conversion Research Laboratory, the Chemical Engineering Catalyst Laboratory, the Industrial Metrology Laboratory at FTMD, and other laboratories.
The further discussions in this workshop included Core 2 (Accreditation): A Review of HEPI Services, which addressed the services provided by HEPI, and Core 3 (Exchange & Pathways), which shared information about existing double degree and exchange programs in various faculties and schools at ITB. The workshop concluded with a presentation on HEPI leadership by Ms. Nindy Saraswati, Program Coordinator of USAID-HEPI.
With the collaboration between ITB and ASU through the HEPI program, it is expected that education in FTMD and other schools and faculties at ITB can become of higher quality and in line with international standards. This will create broader opportunities for our graduates to secure well-paying jobs and enhance international recognition of higher education in Indonesia.