Aerospace Engineering Students Expand Public Awareness of the Aerospace World through AIS 2023
Bandung – The students association of Aeronautical Engineering Students (KMPN ITB) organized the Aerospace Innovation Summit (AIS 2023) on Saturday and Sunday (March 11-12, 2023). Held at the Aula Barat of Ganesha Campus, the event marked the culmination of the AIS 2023 series of activities ongoing since January 2023. The event's vision was "Inspire People Through the Beauty of Aerospace Engineering" with the theme "Behind the Clouds". 
After a two-year hiatus, the Aerospace Innovation Summit (AIS) 2023 returned with the aim of introducing the aerospace world to the public in a more engaging and easily understandable manner. 
"We want to raise public awareness that aerospace engineering is a crucial discipline in Indonesia's progress," explained Ulya Firdausi Rabbaniyyah, the Executive Chairperson of AIS 2023 (AE'19). 
The AIS 2023 event series consisted of two main components: pre-event activities and the main event. For the pre-event activities, competitions related to aviation were organized, including an aviation-themed photography contest (Aero Photography), scientific paper writing (Innovation Paper), and Glider Aircraft Creation.
The main event, however, encompassed activities such as Mini Sharing Sessions, Workshops, Exclusive Company Sharing Sessions, and Aerospace Chats. During the workshop sessions, participants gained hands-on experience in creating Rubber Powered Gliders. The main event also featured a flight simulator where participants could directly experience flying an aircraft through software. 
The Mini Sharing Session and Aerospace Chats featured expert speakers in their respective fields, including: 
Michael Wisnu Wardana, CEO of PT Terradrone Indonesia

 
Fadilah Hasim, Head of the Aviation Technology Research Center at BRIN

 

Batara Silaban, Director of Production at PT Dirgantara Indonesia (Persero)

 

Muhammad Yusuf, Head of Network Management Division at Citilink

 

Zaid Alami, Country Managing Director of PT Boeing Indonesia

 

Andreas Wangsanegara, President Director of PT Pudak Scientific

 
Septhian Marno, Senior Specialist II NRE Research, Research & Technology Innovation of Pertamina (Persero)

 

Isnadhi Dwi Saputra, Head of Process Development & Engineering at PT Kilang Pertamina Internasional

 

Sahkundiyar, Senior Specialist II Process Control – PT Kilang Pertamina International

 

Suwito, Subdirectorate of Airworthiness and Aircraft Operations

 

Iman Kartolaksono Reksowardojo, Researcher at the Faculty of Mechanical and Aerospace Engineering ITB

 
Rais Zain, Researcher at the Faculty of Mechanical and Aerospace Engineering ITB

 

Yazdi Ibrahim Jenie, Lecturer at the Aerospace Engineering FTMD ITB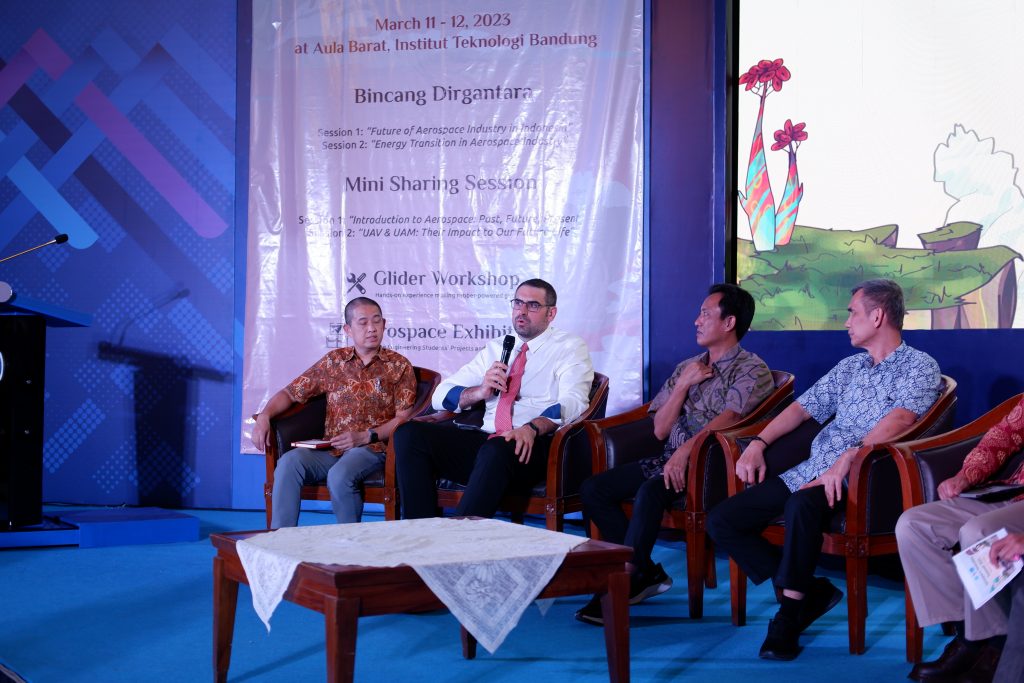 It is hoped that AIS 2023 can provide inspiration to the public, benefiting various parties. With AIS 2023, it is expected that the public can easily grasp the essence of the aviation world present in Indonesia.